Welcome to Higehiro Wiki!
Warning: This wiki contains spoilers! Please proceed at your own risk.
Getting Started  •  Guidelines  •  Manual of Style  •  Image Policy  •  To Do  •  Community Portal

This wiki is dedicated to Hige wo Soru. Soshite Joshikousei wo Hirou. (ひげを剃る。そして女子高生を拾う。, Higehiro: After Being Rejected, I Shaved and Took In a High School Runaway, Higehiro) by Shimesaba, hosting information about all aspects related to the series, and is free for everyone to edit. We encourage users to help make this wiki even better. To start off, check out the above links to get an idea of how wiki editing works.
Story
Office worker Yoshida has been crushing on his boss, Airi Gotou, for five years. Despite finally scoring a date with her, his confession is promptly rejected. Drunk and disappointed, he stumbles home, only to find a high school girl sitting on the side of the road. The girl, needing a place to stay the night, attempts to seduce Yoshida. Despite rejecting her advances, he nevertheless invites her into his apartment.


The next morning, the girl, introducing herself as Sayu Ogiwara, reveals that she has run away from Hokkaido all the way to Tokyo. During her six-month spree, she continually traded sexual favors for a roof over her head. Yoshida, however, remains unswayed by her seduction. Instead, he has her do a different kind of work — one that entails washing dishes and doing laundry. And so, a touching relationship between a heartbroken adult and a runaway high school girl begins.
Contribute to the Wiki!
We have a lot of content on this wiki. With your help, we can make it even better.
Anonymous editing has been disabled for this wiki. To contribute, you must login or sign up for a free account. After that, you can get started and help out by editing typos, work on article stubs or leave feedback in comments and talk pages. You may also consider creating wanted pages.
If you need help, you can refer to the Help pages, FANDOM University or ask an admin.
Are you an experienced editor? Check out the Community Page or Special pages to see which areas of the wiki are in need of help.
Featured Video
Affiliates
Note: For requests of affiliation, contact an admin.
Latest Episode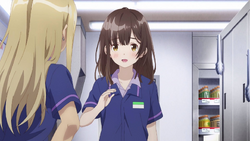 Spring Season 2021 Anime Wikis

TV Anime

TV (Multiseason)

ONA

OVA

Specials

Film
Community content is available under
CC-BY-SA
unless otherwise noted.